Customers are the engine of your business and represent the values and mission of your brand. During these times of uncertainty, it's more important than ever to show you are committed to your clients by showing that those values are pretty accurate and aligned with the new circumstances.
With so many of us now working from home, tracking and centralising interactions from and with your business has become a priority. Tools that facilitate those communications and remove friction will be a huge advantage for any business these days.
Here, we explore the main benefits of using HubSpot's free CRM platform and explain why it's never too late to sign up and enhance your customer relationships.
---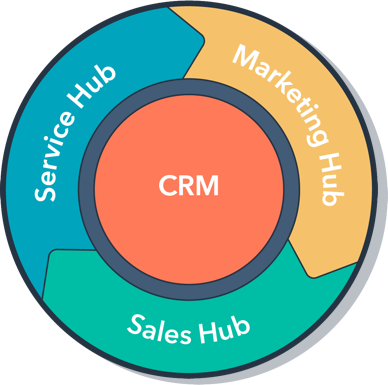 What is a CRM?

Many business tools come and go, but customer relationship management (CRM) software is here to stay. A powerful CRM system is a useful tool to track and manage all interactions and communications with prospects and customers.
When it comes to HubSpot's free software, don't think about a traditional CRM platform that's only used by one team or person within your company.
HubSpot has free tools for everyone: marketing, sales and customer services.
---
Marketing
Attracting the right leads is as important as following up and communicating with them correctly. The labour of marketing is simplified with the free HubSpot CRM.
This platform does not only provide marketeers with essential tools for lead generation and email marketing, but it also includes helpful options such as ad management, chatbot builders and insightful reports to analyse performance.
Sales
Having a full view of the sales pipeline is necessary to understand how your team is tracking towards their quota. This information helps to spot potential leaks and plan effective training to help your team success.
The HubSpot free CRM platform provides you with an effective and intuitive dashboard to track your deals and manage your pipeline. The live notifications will let your salespeople know when a prospect opens their email or visits the website, helping them identify the best moment to get in touch.
These are not the only tools useful for sales reps: connecting with prospects is even easier with free meeting scheduling, live chat, email templates or click-to-call functionality.
Customer services
One universal inbox to manage all communications with your prospects and customers. That's the dream and very often the promise of many CRM systems. HubSpot CRM's universal inbox gives the whole customer services team just one place to view, manage, assign and attend customer queries – no matter where the message came from.
Customer service represents your brand image, missions and values. If there's something you want to get right, it's this. Your customer service team is your connection to your customers. They have the responsibility of representing your brand to them.
Happy customer service employees will create happy customers, and with an easy and intuitive tool like HubSpot, you are getting closer to the success line.
Training
HubSpot offers free training and support to any subscribers. Their resources library covers absolutely everything you need to know to hit the ground running. During uncertain times like these, being compassionate and showing that the human element of your business is present at all times, will be a benefit in the long run.
The benefits of using a CRM

To wrap it up, let's just review the main benefits of the HubSpot free CRM platform.
It's free and easy to use. Many tools claim to be free but are limited in functionality until you pay a certain amount. HubSpot is effective and easy to use for everyone within your team.

Centralised database. All conversations and interactions are accessible from a single, intuitive platform.

Automate data entry. Your team will save time logging emails, calls or meetings as all this happens automatically.

Segment your contact data. Reach out to contacts based on specific criteria using filters.

Foster important business relationships. Focus on what it's important and provide the right answers and support to customers.

Keep the same software as your business grows. Your CRM must be able to grow at the same pace as your business. Whether it's organising more contact information, or recording a greater number of interactions, HubSpot can provide the tools you need.
Now that customer relationships are more important than ever, using the right software is essential. If all this sounds like something you would be interested in, have a look at the HubSpot onboarding and subscription process here.
---