Social commerce is an emerging term used to defineCommerce that takes place over social media channels.
This kind of commerce has always been included in eCommerce previously but the growing use of social media specific commerce has seen this breakaway in the definition.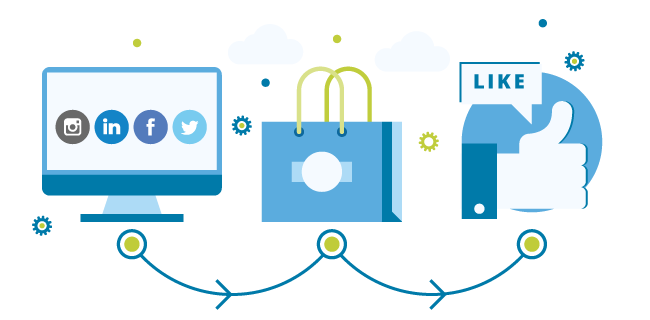 Examples of this social commerce include Pinterest's 'Buy It' button which was introduced in 2015 and Instagram's expanded ad program called 'Instagram Ads'. Many other social media channels such as Twitter and YouTube have recently updated their websites to favour mobiles and easy commerce purchases straight from their apps.
These large corporations would not be investing in these additions if there was not the demand from consumers to buy via their social platforms.
In fact, a recent Marketing Week article states...
'More than half (56%) of consumers who follow brands on social media sites say that they do so to view products. Dubbed 'social shoppers', research shows that these individuals visit social networks as part of their everyday shopping behaviour, and use images they see on social media sites to inspire purchases. Nearly a third of online shoppers (31%) say they are using these channels to browse for new items to buy. Facebook is the most popular network people are using (26%), followed by Instagram (8%) and Pinterest (6%)'
A key focus of this article was on Facebook and their push for social commerce. Facebook users in America can now send money to each other via the Facebook instant messaging app – this is likely to be rolled out to the rest of the World soon.
The latest investment for Facebook has been the acquisition of the leader in Virtual Reality – Oculus VR. Just what do Facebook intend on doing with this technology? Only time will tell.
If you are an eCommerce store, just what does the potential for social commerce mean for you? Essentially the use of social media channels for shopping is a great opportunity for your company to make the most of.
Focuses for this should be on building and maintaining a great social presence with engaging content.
Don't be left behind, get social and adjust your marketing strategy to include social commerce.
---
The team here at ExtraDigital can help you with your social marketing and management of eCommerce activities. Learn more today by contacting us on 01227 68 68 98 and discussing your project with us.