Making the decision to make your site responsive can be tough. Some businesses and organisations feel that having a responsive site is not needed as they mistakenly believe that their customers will alter their behaviour for them. In actual fact, 45% of adults access the Internet through a mobile or a tablet every day (eMarketer, 2012), this means that not having a responsive site can see you missing out on nearly half of your potential visitors to your site and this figure is only set to rise.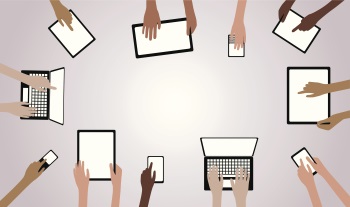 The fact of the matter is responsive design is the way forward for websites, the BBC have even reported that Google have recently made their site fully responsive, their first redesign since 2010. This redesign as made the site more user-friendly and responsive on multiple devices.
When you view the new responsive Google site, there are not a lot of visual differences, the logo itself has been slightly altered to give a more modern look and there are a smaller range of links in the Google bar. The changes made to the Google bar have made it more user friendly on multiple devices, Google have noted that people are moving around Google's various applications on a wide range of devices and therefore want the experience to be seamless and identical on all devices so that users don't have to modify their behaviour on different applications.
The Google applications can now be found under an 'app launcher' located at the top right hand of the home page. Users can then click on these apps in a grid like structure on every device in existence. The steps that Google have made to make their site fully responsive are very subtle, simple and should not have any effect on customer loyalty as the changes won't alienate the customer.
If Google, the biggest search engine in the UK has had to make their site responsive to keep up with the trend for mobile and tablet use, then surely other websites, including yours, need to follow suit. You can find out more information about responsive design, view examples of responsive sites that we have created and see how ExtraDigital can make your site fully responsive in just four weeks on our website, www.extradigital.co.uk. Or you can call us today on +44 (0) 1227 68 68 98.