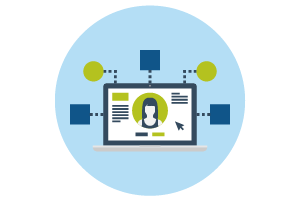 With 2017 well and truly nearly here, what is in store for us over the next 12 months?
Whilst we cannot yet predict the future, we can tell you where online marketing is heading for the coming year.
The year of 2017 is going to see the following four elements become an even stronger part of online marketing and something that you and your business should start to implement, (if you have not done so already), and make the most out of to improve the returns you get from your online presence.
Element 1: Personalisation
Whilst personalisation and shopping is not a new concept, the use of personalisation is going to be important in 2017.
The use of customer data and social media is going to play a large part in allowing companies to target products and promotions at particular customers. This targeted approach to online marketing sees a much higher success rate and will help to create and improve relationships between individual customers and stores.
You can read more about personalisation within online marketing in our blog post: 'Personalisation and Online Marketing'.
Element 2: Email Marketing
Email marketing is another element of marketing that is not a new concept, however, its use and implementation in 2017 is going to be bigger than ever.
Google have created a tool which allows for customers to pay directly inside of emails, meaning that targeted sales emails could become personalised shops in their own right – just how long will it be before this is the norm?
You can read more about the use of email marketing in 2017 in our blog post: 'The Importance of Email Marketing for eCommerce'.
Element 3: Social Commerce
Social media is playing an ever greater part in our lives. With many social platforms rolling out their own eCommerce feature, the activity of buying and selling solely via social platforms is no longer a distant possibility.
2017 is going to see the use of these platforms as eCommerce stores in their own right.
You can read more about the use of Social Commerce in 2017 in our blog post: 'The Growing Use of Social Commerce'.
Element 4: Mobile Only
With the sale of smartphones totalling 349 million units, no one can deny the impact that these handsets are having and are going to have on our browsing and purchasing behaviour.
This coming year is going to see the importance of mobiles impacting more website designs as companies strive to provide the best online experience for their customers.
You can read more about a mobile-only approach to website design with our blog post: 'The Trend from Mobile First to Mobile Only'.
To find out more about any of these four elements which are going to be big in 2017, contact our team today on 01227 68 68 98 or tell us about your project below. We can work with you to ensure that 2017 is your best year ever!