With future consumer demand in mind, digital communications company EE switched to the fastest 4G mobile network in the world. The network, which runs LTE-Advanced technology, has the capability to run at speeds of up to 300Mbps! At first, the network covered London's Tech City - home of the ExtraDigital London office - with organisations in this area getting first use.
The move comes in anticipation of huge data usage predictions, with an expected 750% increase forecasted over the next 3 years. EE state that:
"…analysts predict that data usage will grow significantly over the next three years. In fact, our trend-mapping shows that data usage is set to rise by 750% in that period, as consumers and companies conduct more of their business and lives on-line.
…The speed and capacity of the EE 300Mbps network will create new business opportunities, more efficient and flexible ways of wireless working, and changes in the way in which content is consumed and created on the go."
Is the future of business online?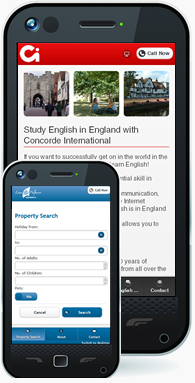 This shows the direction in which business is heading - with large investments and developments in network speeds, it's clear to see to the future lies in online business, especially mobile.
ExtraDigital have a serious commitment to the future in online mobile by investing in the latest mobile developments as we have recently switched to the new 4G network on EE, investing in the best smartphones and tablets available.
To further cement our beliefs, all new websites designed and built by ExtraDigital, will have responsive design capabilities from the off. Our location in tech city London enables us to take full advantage of the latest developments, allowing our clients to benefit directly from this through our SEO services in London.This correlates perfectly to the beliefs at ExtraDigital, that businesses need to turn their attention to catering for those using mobile devices, whether this is smartphone usage or tablet technology. Clients are reporting a huge surge in 'non-desktop' website traffic - ignoring this traffic is a dangerous game! It's important to be one step ahead of your competitors by being able to adapt and cater for this traffic to maximise sales and leads.
If you would like more information about how ExtraDigital can help your business to cater for mobile visitors, get in touch with us today by calling us on 01227 68 68 98 or dropping us a quick email with your requirements.