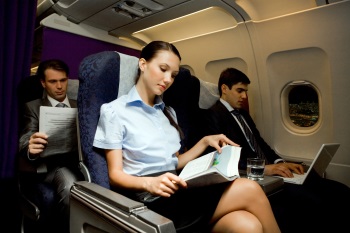 For those who have not yet experienced it, using the in-flight internet service found on a number of airlines can be a very frustrating experience due to the slow connection. With people becoming increasingly reliant on technology such as tablets and phones as a form of entertainment on flights, choosing them over the traditional book or puzzles, airlines have got for to find way to cater for these passengers in order to provide them with the experience that they demand.
Communications regulator, Ofcom, have suggested that they should license a new satellite system for aircrafts, trains and ships which will allow for better internet services whilst on the move with connections up to ten times faster than they are currently. This new satellite would replace the existing Wi-Fi found on planes which takes the connection straight from the few land based satellites which are aren't providing enough continuous connection, especially when over water. Getting the connection through orbiting satellite means that a larger area will be covered including more remote parts of the country where land based satellites are simply not found.
At the moment it is up to the airline whether they make us of this new technology and it is currently unknown whether any British airlines are going to utilise the technology. However, British Airway's in-flight entertainment and technology manager has stated that they are 'closely monitoring developments', a promising sign for its passengers.
This improvement to connectivity will mean that passengers will be able to stream video content from sites such as Netflix and BBC's iPlayer by as early as 2014, giving you more choice of in-flight entertainment on your travels. This improvement in connectivity will also boost the already high number of people viewing sites like yours on their mobiles, tablets and laptops whilst in-flight.
The increased use will drive the demand for mobile and tablet compatible sites and see companies without mobile and tablet compatible sites loose out of sales and visitors. The need for responsive design is becoming greater and greater and is no longer a factor that companies can ignore, especially if they wish to draw more visitors to their site.
Why not uppgrade your site today, contact ExtraDigital and see how they can make your site fully responsive in just 4 weeks. Call today on +44 (0) 1227 68 68 98 or visit our own fully responsive site, www.extradigital.co.uk, and see what we can do for you.
More information about this news can be found at the BBC website.