French is the Internet's ninth most popular language with over 97 million active internet users and so it's unsurprising that many businesses are looking to market their products and services online to people whose main language is French.
In 2013 French consumers alone spent 106 billion euro's shopping online and this figure has been increasing every year.
But just how do you market your offering online to French speakers?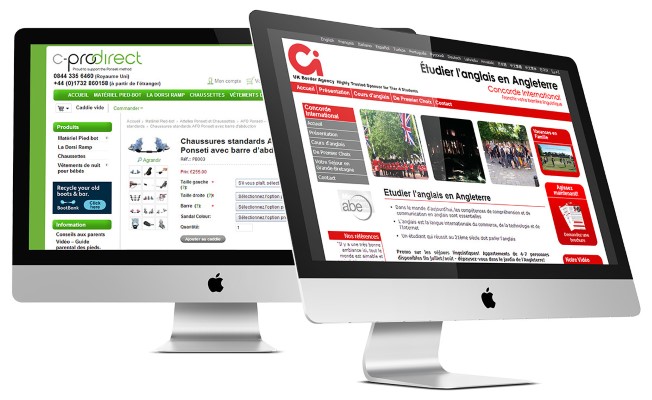 Use of French Search Engines
Research shows that the majority of purchasing decisions nowadays start with a search for a product or service on a search engine.
In France over 83% of the population use the Internet (55,429,382 people) as reported by the EU in November 2015. France is the top three countries for internet usage with the UK in position 2 and German in position 1.
French language readers are actively using search engines so you need your website to appear on the right French search engines.
Which Search Engines to Use?
There are a high number of search engines out there to promote your website on.
Unsurprisingly Google has a large proportion of the French search market with their multitude of search engine variants including....
Google Algerie
Google Belgique
Google Benin
Google Burkina Faso
Google Burundi
Google Cameroun
Google Canada
Google Centrafrique
Google Cote d'lvoire
Google France
Google Gabon
Google Guadeloupe
Google Haiti
Google lle Maurice
Google Liban
Google Luxembourg
Google Mali
Google Maroc
Google Niger
Google Rep. Dem. du Congo
Google Republique du Congo
Google Rwanda
Google Senegal
Google Suisse
Google Togo
Google Trinite-et-Tobago
Google Vanuatu
Google Vietnam
On top of this there are several strictly French speaking search engines including Francite, La Toile du Quebec and Voila. Volia is seen as the original French speaking search engine and therefore has a strong following in France.
Use of Search Engines in France
A key factor to consider when marketing online in France is that whilst the French search engine market is growing rapidly they are behind many other language users (ninth globally).
This slow uptake in search engines is largely due to the French electronic telephone directory called 'Minitel' that was developed before the use of the Internet and search engines.
The use of this electronic telephone directory meant that much of France had no need for search engines and therefore there was not as much focus put on French search engines as there were for other languages.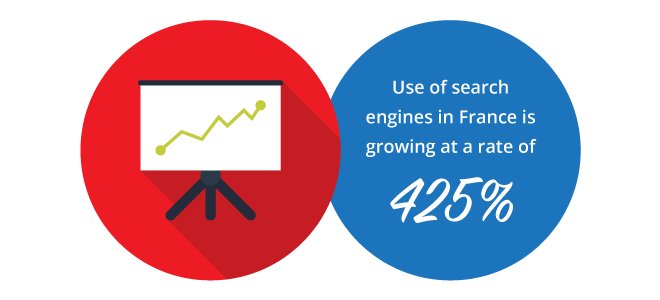 However, the use of search engines in France is increasingly rapidly (currently at a rate of 425% compared to a UK rate of just 230%).
Pitfalls of Marketing in French
When carrying out online marketing in French you must be aware of the following difficulties that the language and application of the language carries. They include:
Accentuation
With the French language having not one, but four significant accents the choice of keywords and phrases automatically quadruples.
However, there is strong evidence that many French speakers do not consistently use one particular accent online and that often when they conduct searches they are dropping the accents all together.
This throws up many queries with the correct keywords and phrases to use as search engines do not currently compensate or normalise for this across all accents. It is known that Google normalises the acute accents but not the rest of them.
It's vital to do extensive research to check you're targeting the right keyword phrases and phrasing.
Stemming
Search Engine 'stemming' which is used to delivery both singular and plural spellings in response to search engine queries are not as common in the French language as there are fewer stemming systems available for the language.
This lack of French stemming systems means that variations of keywords and phrases, including spelling typos, are not automatically factored into search results. Exact matches to the search phrases are still needed which leaves no room for human error.
While this area will no doubt improve for now you need to take more of an old school SEO approach targeting more exact phrasings.
Words & Punctuation
A big issue faced by many companies is that you have far less space to work with than you would in other languages.
The space provided to you by search engines for your Meta information and paid ads is the same across the board, but on average French words are 25% longer. This leaves you with 25% less space on search engines to write a compelling listing for your website.
Factor in the punctuation that you need to use in your Meta information and paid ads as and you become even more limited.
For example, 'Buy Now!' is 8 characters in English whilst in French it is 'Achetez maintenant!' which is 20 characters.
That means that using the wording 'Buy Now!' in your meta information or paid advertisements actually leaves you with 12 less characters to use, which is huge for such a simple phrase.

French Culture
According to research 43% of French people make most of the searches in search engines using the French language and of these 93% of them prefer to select a French website from the results.
So if you're serious about your French market you need a .fr domain.
This cultural preference for French websites goes further and means that you cannot just rely on tools such as Google Translate to translate your website into French for you, it needs to be a French website through and through.
Getting native French translations of your website rather than translating your website word for word will also ensure that your website has that genuine French feel.
French speakers are very sensitive to grammatical errors so make sure your translations are perfect or they could harm your French marketing efforts.
Also keep in mind that translating the context is just as important as the words.
French Marketing Experience
With the use of search engines and the internet growing in French-speaking countries, it's the right time for you to expand your horizons.
Getting your brand, company and products positioned in countries like France and other French-speaking areas takes skills, experience and knowledge. This is something that our team here at ExtraDigital know well.
With French speakers in-house our experience in SEO and online marketing to French-speaking cultures around the world can help you grow your business.
Contact our team today at +44 (0) 1227 68 68 98 to learn more about our French digital marketing services.