You've spent a lot of time and effort building up your email subscribers, however, a recent survey by Engage Hub has suggested that 90% of UK consumers have unsubscribed from retailer's emails in the last 12 months.
So how can you prevent customers from unsubscribing?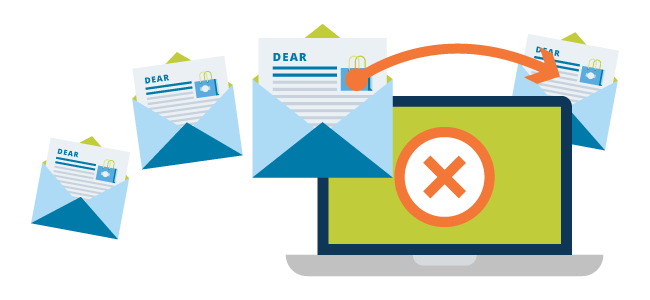 Two Main Reasons People Unsubscribe
By looking at the main reasons people unsubscribe you can improve your email communications and reduce email unsubscribe rates.
Frequency
Too many retailers feel the need to send email communications daily or even more frequently. While this might be relevant for some services e.g. Daily Deals many retailers simply don't need to email so frequently.

Ensuring you send emails to customers at a sensible rate will not only reduce unsubscribe rates but also improve conversions.

So what is a sensible rate? Simply put when you have something of value to communicate and at a time you feel the customer is most likely to be responsive. Look at your data if most orders occur at the weekend then an email on a Friday or Saturday morning could be a good time to send.
Relevancy
If the customer isn't interested in your emails then they will naturally want to unsubscribe.

The main reason many people subscribe to retailer email lists is for offers and then to keep up-to-date with what's new. While these core functions can be supported by useful tips and news email marketing for retail needs to focus mostly on core offers and what's new.

Sensible retailers can go further and segment customers into interest and spending habit groups so you can send even more relevant emails that are likely to interest the customer. This is vital if you offer a wide range of products and target many diverse audience groups.
Follow the Customer not the Crowd
While it can be tempting to see what your competitors and big brands are doing with their email marketing this isn't necessarily going to reduce email unsubscribe rates.
Assuming these retailers have done all the research and therefore know what's best for your customers is a dangerous point of view. Even the big brands can get it wrong plus do you really want to be churning the same ideas as everyone else?
Understanding your customers and using them to inspire your email marketing not only ensures lower unsubscribe rates but also helps you be fresh and relevant leading to better open and conversion rates.
Email Planning
My preferred method is to plan your emails over each quarter, identifying the best content, time and audience. Leave yourself a little flexibility in the plan in case your plans change.
Use the data you have at hand, this could be from previous email marketing campaigns, analytics plus other information on your customers.
Segment your subscriber lists so you can reward your very best loyal customers as well as offering more wide-ranging deals.
Conclusion
Email marketing can be highly beneficial to online retailers but does need a planned approach to get the best results. Taking time to adjust the frequency and relevancy of your emails in line with your audience will really help to reduce email unsubscribe rates and help increase conversions.
---
Need Email Marketing Help?
If you're looking for an agency to provide monthly email marketing that brings results talk to us. Including research, planning, email design and campaign management.
Call us on 01227 68 68 98 or tell us more about your needs below.
---