In a previous article, we touched on Faceted Navigation and its benefits for eCommerce, publishers, and other large websites.
"Faceted navigation is a feature on a website that allows the user to filter products shown based on a range of different attributes. Faceted navigation creates a better user experience by letting the user filter down to their particular interest rather than sift through countless products they are not interested in."
Faceted navigation improves the users experience on the site, ultimately improving the conversion rate.
But what about SEO? Set up correctly, Faceted Navigation can improve your site's rankings. Set up wrong, you likely not going to rank for any keywords. In this article, we will touch on best practices for setting up Faceted Navigation with SEO in mind.
Faceted Navigation and SEO
There are a few problems to be aware of that can arise from faceted navigation:
Filter selections create separate, duplicate URL's
Similar product pages with little or no content differentiation
Too many URL's indexed
Filter selection order creating separate, duplicate URL's
One filter selection creating separate, duplicate URL's for one single product depending on which order the filters are applied. Imagine you are looking for a pair of stretch straight leg black jeans. Depending how you select the filters, you could end up with:
Colour/material/style = /jeans/?colour=Black&material=Stretch&style=Straightleg
Colour/style/material = /jeans/?colour=Black&style=Straightleg&material=Stretch
Style/material/colour = /jeans/?style=Straightleg&material=Stretch&colour=Black
Style/colour/material = /jeans/?style= Straightleg&colour=Black&material=Stretch
Material/style/colour = /jeans/?material= Stretch style= Straightleg&colour=Black
Material/colour/style = /jeans/?material= Stretch&colour=Black&style=Straightleg
Now you have multiple URL's for one pair of jeans, which would make it hard for this product to rank well because Google will not know which one to put forward.
How to fix:
To help Google understand which one to rank for, you will need to do one of the following:
A rule in place to ensure filters are only ever added to the URL in a consistent order e.g. colour/material/style. This means you'll only ever get one URL and reduces any crawl budget issues.
A canonical tag declaring which is the master URL.
A No Index tag on all of the duplicate pages.
Option one is generally the preferred route as it reduces crawl budget – meaning Google is more likely to crawl all of your URL's. Never go down the road of using options 2 and 3 together – this will send confusing signals to Google about where the page should be indexed or not.
Similar product pages with little or no content differentiation
Like in our example above, if you end up with multiple URL's for the same product, you will likely get penalised for duplicate content because each URL will have the same images and content. On top of that, you may have products with minimal differences (like colour) and each has its own URL, but the only difference in page content is the colour describing the jeans.
How to fix:
We'd recommend displaying the most popular colour version in search results (based on traffic data from Google Analytics, search volume or conversion data, whichever is most suitable).
The other colour parameterised URLs should then canonicalize back up to the master version, so you only ever have one version being used for indexing purposes. Alternatively, you could disallow the colour parameter via your robots.txt file, which would be an option if the crawl budget is a concern.
An alternative is being able to dynamically select a colour directly on the product page without updating the URL, but this depends on CMS capabilities, and may not be the best option if you're seeing a lot of search volume for individual colours.
Too many URL's indexed
For most sites using faceted navigation, opening every single filter page for indexing is not the best way forward. However, you also want to be careful not to have too few filter pages open for indexing as you could be missing out on really good long-tailed keywords such as 'straight leg black jeans.
How to fix:
We recommend that you select filters for indexing that offer the best opportunities in terms of search volume and value to users. When looking at pages with multiple filters applied, if these pages are also returning few or no products, then consider whether it's worthwhile to No Index these pages or implement filter rules.
You may also want to create a rule that sets your pages to noidex after a certain number of filters have been applied. This will prevent an empty product page from appearing if a selection of 2 or more filters has no products.
Evaluating your faceted navigation pages for SEO
Knowing how to treat your faceted navigation pages is complex, you'll want to go through this flow to determine what to do with them.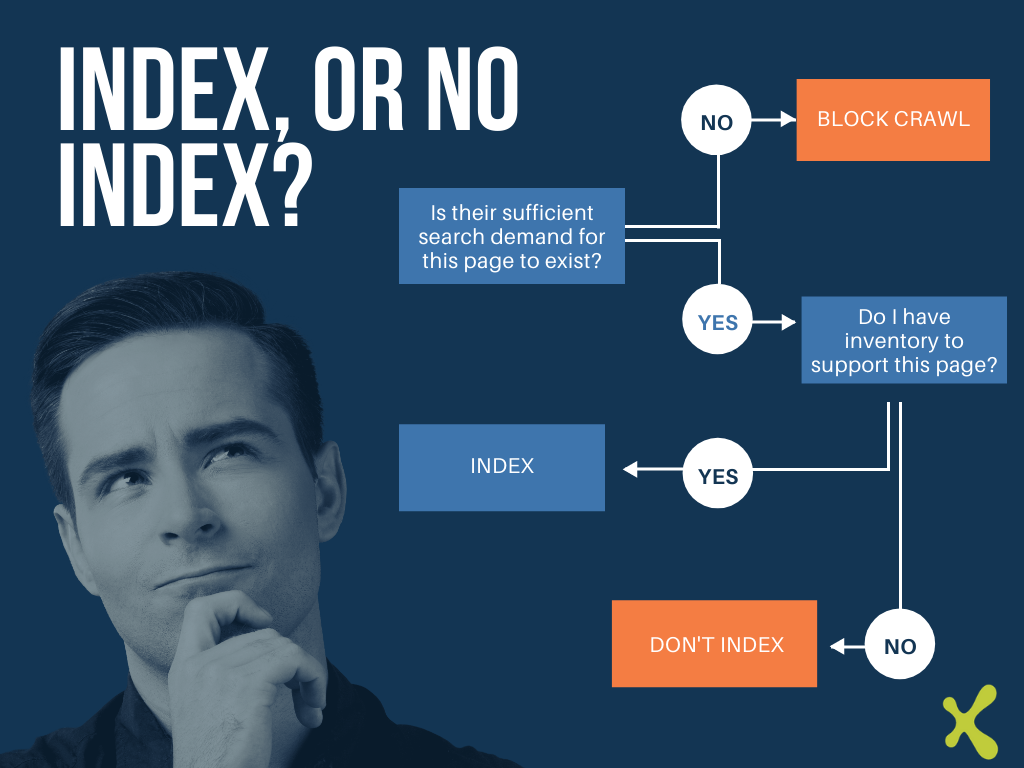 From this process, you'll end up with three groups of pages:
Indexed pages: Should always have a self-referencing canonical, shouldn't be blocked from robots.txt, and should have valuable internal links pointing to it.
Don't Index pages: Will have a noindex tag
Block Crawl: Should not be accessible by bots
---
Conclusion
There are no one-size-fits-all solution for dealing with faceted navigation and it requires a clear strategy from the beginning to make sure you prevent ending up with a site that never going to rank well.
Our team can help you balance a good user experience with SEO best practices using Faceted Navigation. Get in touch with us on +44 (0)1227 68 68 98 to discuss your needs or fill in the contact form below.