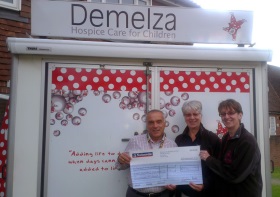 Our very own head web developer, Michelle Stone, has once again completed leading a convoy of Minis on an epic and extremely long journey from Lands Ends to John O'Groats.
Michelle does all this in aid of Demelza House, the children's hospice that helps to support families throughout Kent, East Sussex and South East London. Michelle was not alone when she completed this drive, she was joined by members of the North Devon Mini Register who were raising money for the Children's Hospice South West, this hospice also provides support for life-limited children and their families throughout the South West of England.
In total, Michelle and her Mini Jock, used around 187.76 litres of fuel and travelled over 1368 miles over five days. They started off at Lands End around Monday at 11am and arrived at John O'Groats around midday on Friday.
Now she back and she is rested, let's find out how the journey was for her and her and Jock.
What was your funniest moment of the journey?
Michelle: There are usually many daft moments – from the looks on people's faces when we stroll into the supermarket each morning for breakfast – all dressed as hippies – to whatever moment occurs on each day. This year we had just left the campsite when Jock Jr (our trailer) decided to go wandering off by himself at a fairly rapid rate into a hedge. We all screeched to a halt on the side of the road and went running to retrieve him – whilst Chris managed traffic in his hi-vis jacket... and dress. There were many episodes of drivers getting the giggles and driving becoming a problem (I was definitely heading for a ditch). Penny was laughing so hard she hit a pothole with such force it caused the engine to cut out. We lost the rest of the run for a bit as she was car number 3 and they all got stuck behind her.
How did you celebrate your arrival in John O'Groats and your completion of the journey?
Michelle: We actually don't spend very long there these days – we grab some lunch, souvenirs and the obligatory photos and then head off to play on the epic Scottish roads. We travel along to Dunnet head – which is actually the most northern point and then we head back on the A897 – 39 miles of single track road – we love it so much we may change the route next year so we go up it on the way up and down it on the way home!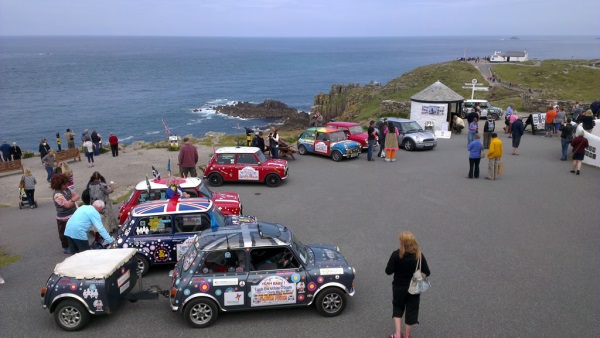 Will you be doing it again next year?
Michelle: Of course – it will be our 14th year... They'd be lost without Mini Jock leading the way!
How is Jock feeling after the marathon of car journeys?
Michelle: He is currently in winter hibernation with a few 'issues' that will need sorting before he comes out of hibernation – namely a dodgy engine mount and a whole new wiring loom to go in! We have a tame mechanic on standby ready to sort him out.
ExtraDigital provided Michelle and Jock with financial, moral and social media support throughout her voyage of epic proportions. Contact us, for more information about the LEJOG 2013 and the charities that benefitted from the monies raised.