ExtraDigital is proud to announce their support of Ancon Technologies' cancer detecting device, so much so that we have been providing marketing support pro-bono to help this worthy cause. Our Head of Marketing (who is also one of the organisers of Man on the Run, a boys & men's 5k charity race raising funds for CRUK) said "Everyone in the team knows someone who has been affected by cancer and when we found about the device we just had to offer our support".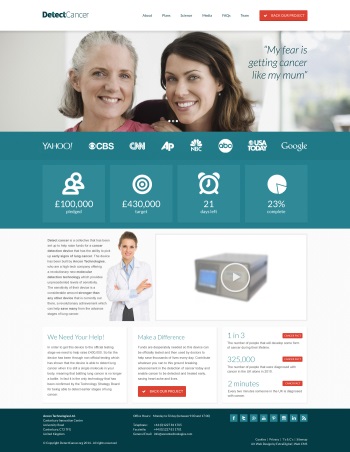 The cancer detecting device is called the Nanoparticle Biomarker Tagging device and it has been built by Ancon Technologies, a high-tech company based in Canterbury, Kent. The device uses a revolutionary new molecular detection technology which provides unprecedented levels of sensitivity. The sensitivity of their device is a considerable amount stronger than any other device that is currently out there, a revolutionary achievement and it is hoped it will help save many lives by detecting lung cancer early on whilst it is easier to treat.
Lung cancer is the second most common cancer diagnosed in the UK after breast cancer with around 42,000 people diagnosed in the UK throughout 2010 and 35,184 deaths recorded in 2011, that's nearly 100 people per day.
In order to get this device to the official testing stage Detect Cancer needs to raise £250,000. So far the device has been through non-official testing which has shown that the device is able to detect lung cancer when it is still a single molecule in your body, meaning that fighting lung cancer is no longer a battle. In fact it is the only technology that has been confirmed by the Technology Strategy Board for being able to detect earlier stages of lung cancer.
Wesley Baker of Ancon Technologies stresses that "Cancer touches all of us eventually – it could be you or someone you know and love. Donations will be put towards the development of this ground-breaking NBT device so that it can save uncountable lives from the perils of this ugly disease." Once funding is achieved the device will go into clinical trials within 18 to 24 months, meaning that the device could be in Doctors surgeries within less than five years.
To find out more or to donate and help save lives please visit www.detectcancer.org.