When it comes to blog writing, we want to write and deliver content fast. Taking too long to write content can be costly, but we still want to generate traffic.
But, you may wonder- is it worth taking the time to invest in longer content? If you want to appear in the top 10 google rankings, it is!
However, there can be room in your plans for both long and short blog content as both have their advantages and there maybe times when a short blog is needed, just be aware it may not do so well in search results.
So, what exactly is longer blog content, or shorter blog content? Read more to find out how both can help generate traffic.
---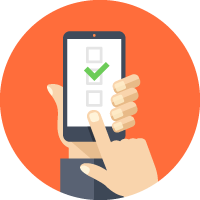 More users using mobile
As technology has advanced, more users are accessing content from the phones. So, its only natural to think they want shorter blog content, right? With smaller screens and tablets, 300 words per article would seem sufficient.
However, according to google, unless you have an authoritative domain, the top-ranking sites contain blogs with 500 words plus.
This highlights that longer blogs may be better for your visibility in search results.
---
What do I need to do?
To tailor content to suit your users search you need to consider the following:
Content Strategy
Make sure you are thinking of what your user wants to see. Searches are now being made with long-tail keywords. Google doesn't rank content high for being short and/or using one-word keywords.
Provide high quality content
Content needs to be evergreen. Evergreen content is long lasting and holds much more value than content that is short. This allows content to appear in google search much longer too as it can answer audience queries over a long period of time.
Aim for long form content
This means an article from 1,000- 2,000 words, holding larger amount of content. This will give you the edge over your competition and assist in generating leads in the long-run.
Provide Value
Provide insightful and interesting content that will answer your customer queries. The more useful the content is, the more likely it will generate traffic.
Where do I begin?
Before diving into writing a long form blog or eBook, make sure you research your market. There is nothing worse than writing for the sake of it.
---
Prior research ensures you:
Save Cost
Means you do not waste time writing irrelevant content.
Save Time
As you know what you are writing about, you spend less time.
Optimise Content
Know who your content is for and tailor it to them.
---
Once you have researched into your audience's interests, persona and the stage they are in the buyer's journey, creating content should become an easier process.
Whilst researching you should be able to identify key trends. For example, what topic is trending the most? What interests your readers demographic? One tool to use for this is google trends. This allows you to compare popularity in topics and choose one that works for your blog and niche market.
There are key factors you need to think about whilst researching. Some examples are:
What are my goals? What will this content achieve?
What are my customers searching for? Am I answering their questions in detail? If not, make sure you are! Look at google search queries to identify the popular questions that are searched in relation to your market.
Look at what yoru competitors are offering. This means looking at social platforms such as Instagram, linked in and Facebook as well as blog and websites. If you understand your competitors, you may be able to get one step ahead of them!
Think about the tone you will be using in your content. This should be at the back of your mind when looking at content on google at competitor sites!
Once you have gathered enough research, the next step is to structure!
---
Create a detailed outline and structure
Begin my identifying your persona
Think about your goals
Draft an introduction that grasps the reader's attention
Bring in the high-quality and juicy information!
Add images and videos! – users like seeing visuals within content and it also helps break it up!
Add the final bits and the conclusion
Finally – edit, edit, edit!
---
Once you have structured and created your blog, make sure you edit. Any quotations and statistics need to be correct and up-to-date. Once editing is over, your content should be ready to be added onto your blog and styled accordingly.
---