Extra Digital have recently completed the website design and development of www.compellingpropositions.com - a training consultancy business targeting universities, business development/sales teams and consultancies.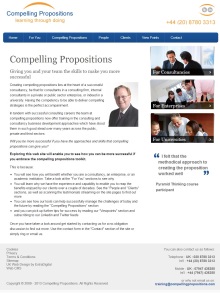 The design features a very simplistic, corporate business website, displaying rotating testimonials and in depth information in a clear and concise way.
The site was designed to closely match client specifications as well as the existing branding and company logo. The site will function as an effective marketing site with appropriate 'calls to action,' linked social media accounts and testimonials that are a good reference to the quality of work at Compelling Propositions.
Compelling propositions was designed and developed onto the ExtraCMS and was completed on time - within 6 weeks.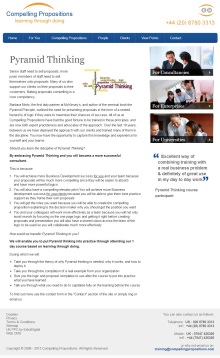 ExtraDigital Web Design
ExtraDigital specialise in business website design, whether your business needs a simple website or a site with added functionality. The ExtraCMS is an enterprise level content management system that caters for the needs of businesses in many industries, from travel and tourism to corporate consultants.
To see more of our businesses web design, check out our design portfolio.
To discuss what ExtraDigital can do for your business's online presence, give us a call today on +44 (0) 1227 68 68 98 or fill out an online enquiry form with your thoughts and requirements.