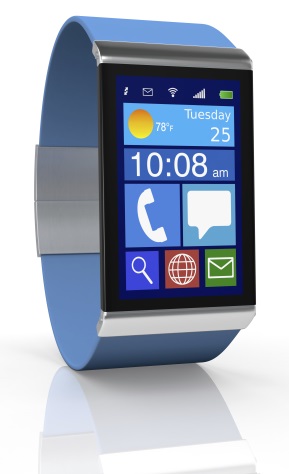 Wearable technology first started with the electronic calculator watch back in the 1980s. Indiscreet Bluetooth ear pieces created in the nineties were another wearable technology that was supposed to make it safer and easier to take calls whilst on the move, whilst also seeing many people walking around looking like an extra out of star trek and talking to themselves. Thankfully, this fashion seems to have fallen out of favour due to better loudspeaker technology and more discrete average looking headphones with a microphone built into the leads. Indeed our Head of Marketing had a Swatch Pager Watch back in the days!
The latest developments in wearable technology has seen an increase in use in areas such as sports with technology such as pedometers and watches to monitor your heart rates and average speed, all of which can be synced up to your phones and computers for monitoring and analysis. Nike are the brand that have really capitalised on wearable technology with their specialist running shoes, running apps and their Nike+ Fuelband SE which motivate you when you are exercising as well as tracking your workout and then breaking it down so you can see your progress over time.
2013 saw the launch of the Google glass, this was the real breakthrough in the use of wearable technology, it allowed its users to surf the web, watch videos, make calls, face time, use Google maps as well as taking photos and videos, all with voice activated glasses. At the moment, despite its launch last year you can only get one in the US by applying to test them for Google and paying around $1,500 for the privilege. It was thought that they would be available to purchase at the end of 2013 but it is still unsure when they will be on the market.
This year as far as wearable technology is concerned it is all about smart watches, these smart watches such as the pebble smartwatch will see you be able to make calls on your watch as well as using a number of popular apps, meaning that your phone stays safely in your pocket. These smart watches are a huge improvement on the early watch calculator of the 1980s and the realisation of the 1983 cartoon series of Inspector Gadget 'utility watch' worn by Inspector Gadget's niece, Penny, which was capable of video conferencing with her dog called Brain.
This year, the year of 2014, is expected to be all about wearable technology. In fact a report by Credit Suisse in May of 2013 stated that the market of wearable technology is forecasted to be worth around $50 billion by 2017. Question is will you be wearing it? Is it hype? Well as First Post pointed out, so was the Internet in 1999.
Article written by Katie Butcher