Single page design and HTML5 has been heralded as the future of website designs. A single page design is effectively a website that contains just one page and with some clever use of design and colour blocks it allows the various 'pages of content' normally on a site to exist on just one page.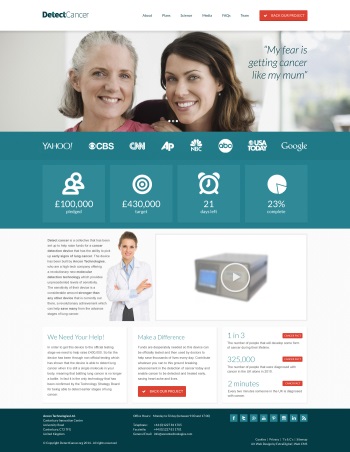 It is thought that this look has been developed using HTML5 to work better on devices such as tablets and mobiles which is what the majority of people use as their primary internet browsing device. Indeed, the research firm Strategy Analytics found that HTML5 compatible phones topped 1 billion in 2013 and that figure shows no signs of slowing down as we enter 2014.
Another reason why single page design has been pushed as the future of websites is because it plays on the human nature of scrolling downwards when visitors land on a website, the behaviour is engrained in us all now. This means that the visitors to your website are automatically scrolling down and viewing more content, information and therefore are more likely to find what they are looking for in the single page design and ultimately stay on the site resulting in more sales/leads for you and your business. Achieving this on a traditional many page site, trying to communicate effectively the whole site in the space of one screen is very difficult to achieve, especially for websites that are trying to convey an experience or a story and therefore need their visitors to view more content before becoming captivated.
Simplifying the actions of browsing a website, removing links to pages (which aren't always in the most obvious of places) and generally making the site easier for your visitors to view have to be a good reason to develop your website into a single page design and HTML5 website. Clearer and less scattered pages means that communication via websites are much easier and therefore the message from the site and business is more powerful and sees a much higher conversion rates.
However, single page design is not right for every business. Larger ones, especially eCommerce sites should stay clear of single page designs especially if you sell a large number of various goods, your visitors are not going to want to scroll down past 100s of products; they want to have pages specifically for each category of products that are sold. Always think of the consumer experience when considering single page designs.
If you would like to find out more about single page designs and the use of HTML5 on your website then contact ExtraDigital today on +44 (0) 1227 68 68 98 and speak to a member of our team. Our team of in-house designers will be able to create a single page design for your website which will effectively be able to communicate your message on a multitude of devices including tablets and mobiles. Single page designs and the use of HTML5 are just two of the services we at ExtraDigital can provide; we can provide social media management, PPC services and have the experience and capabilities to provide multi-lingual website design and marketing. Contact us today to discuss your website needs for this coming year.
Article written by Katie Butcher