Our team attended this year's Kent 2020 Vision LIVE show in Detling, Kent. They may have come home weary with achy feet but they enjoyed every moment that the show had to offer.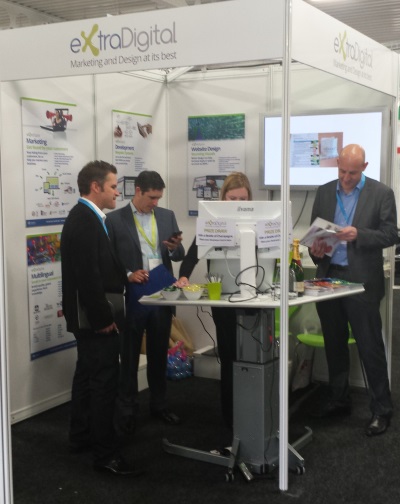 We were based on stand no. 395, strategically placed near the coffee cart (great news for us), and within the technology section of the exhibition. The show gave us the opportunity to network with other exhibitors and visitors to the event, leading to us gaining great contacts and an opportunity for us to further enforce the brand that is ExtraDigital to get the name into the forefront of people's minds.
Our offer to the visitors and exhibitors of Kent 2020 Vision LIVE was a free edible website review, much to the delight of the visitors to our stand, with many people secretly hoping for red on the traffic light scale to get more of the strawberry Chewits.
We also ran a champagne draw to give one lucky person the chance to win a bottle of Moët Champagne. That lucky winner of our Champagne draw was Stephen Hoad of Inside Trading Limited. Well done Stephen, hope you enjoy the bottle of bubbly on us.
If you missed us at the Kent 2020 Vision LIVE Exhibition, don't worry, simply contact us today and we can talk your website and your online marketing possibilities. We have vast expertise and knowledge of Kent website design, website development, SEO, PPC, multilingual websites services, social media management and with our unique ExtraCMS we can offer you a complete experience. We can also offer consulting services on a number of websites in a wide range of industries, simply contact us on 01227 68 68 98 to find out more.
You can see the wide range of work that we have undertaken in recent years, including our Portfolio and customer testimonials on our website, www.extradigital.co.uk, why not take a look today.
To everyone that we met that Kent 2020 Vision LIVE and to the organisers, a big thank you for making our day so memorable.